---
At That'so, we are proud to offer you cosmetic products that will enhance your natural beauty while boosting your self-confidence! To make sure that we offer you a product that suits you, we offer you a wide selection of self-tanners that respect your skin and the environment. You have fair skin and don't want too intense tan? Do you prefer a one-off effect or are you looking for a product with an anti-ageing effect? All this is possible! So let us help you find the ideal That'so product that will suit your needs!
---
---
If you are blonde, redheaded or have fair skin, you probably want a light tanning effect that will discreetly illuminate your complexion without contrasting too much with your natural colour. For that we advise you:
The Golden Beauty. It's for you if you want a light tan and a smoothing action in a single gesture.
You can also try our Nature Tan - Light Bronze, It is a bit darker than the Golden Beauty but not as dark as our famous On The Go Dark which makes it a perfect in-between!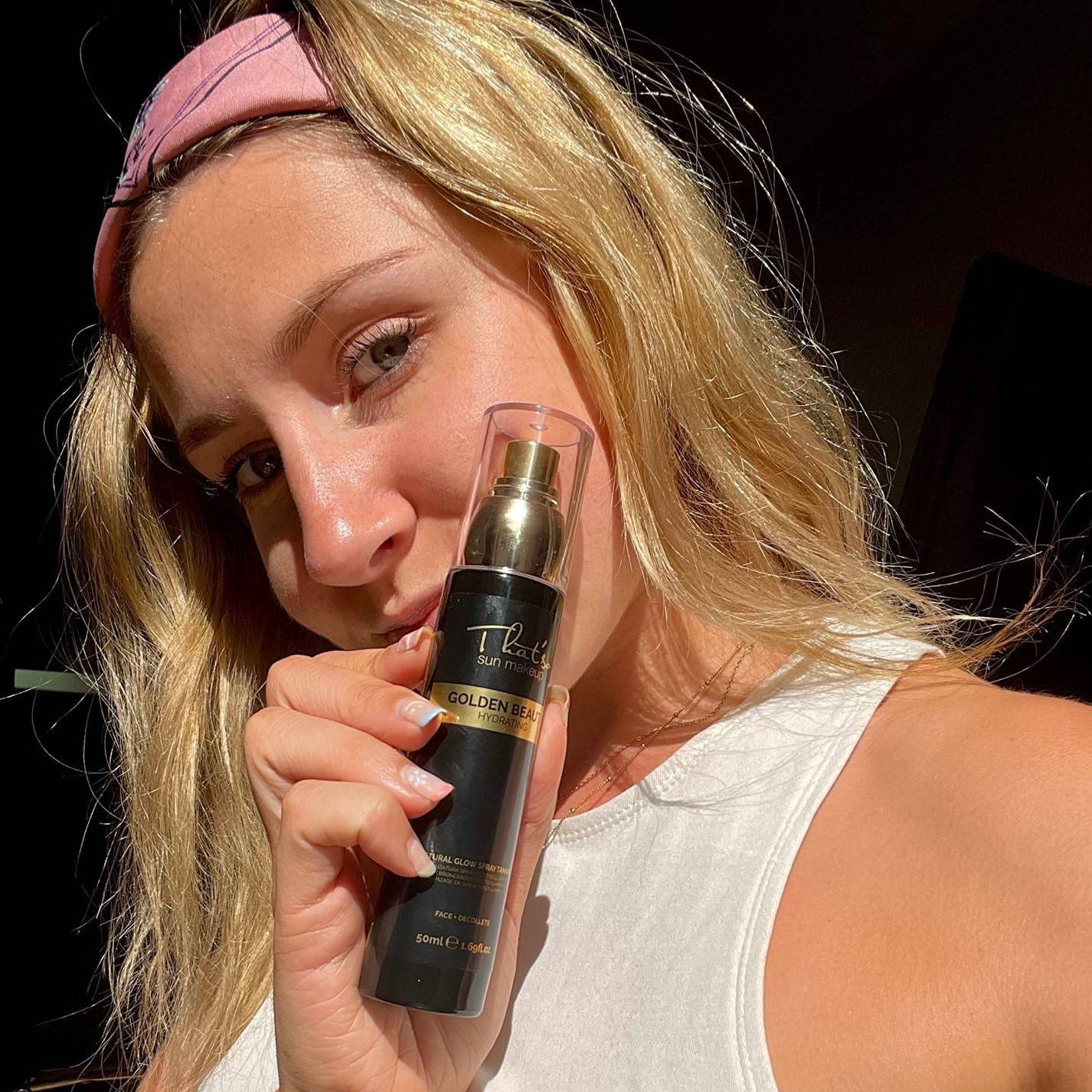 ---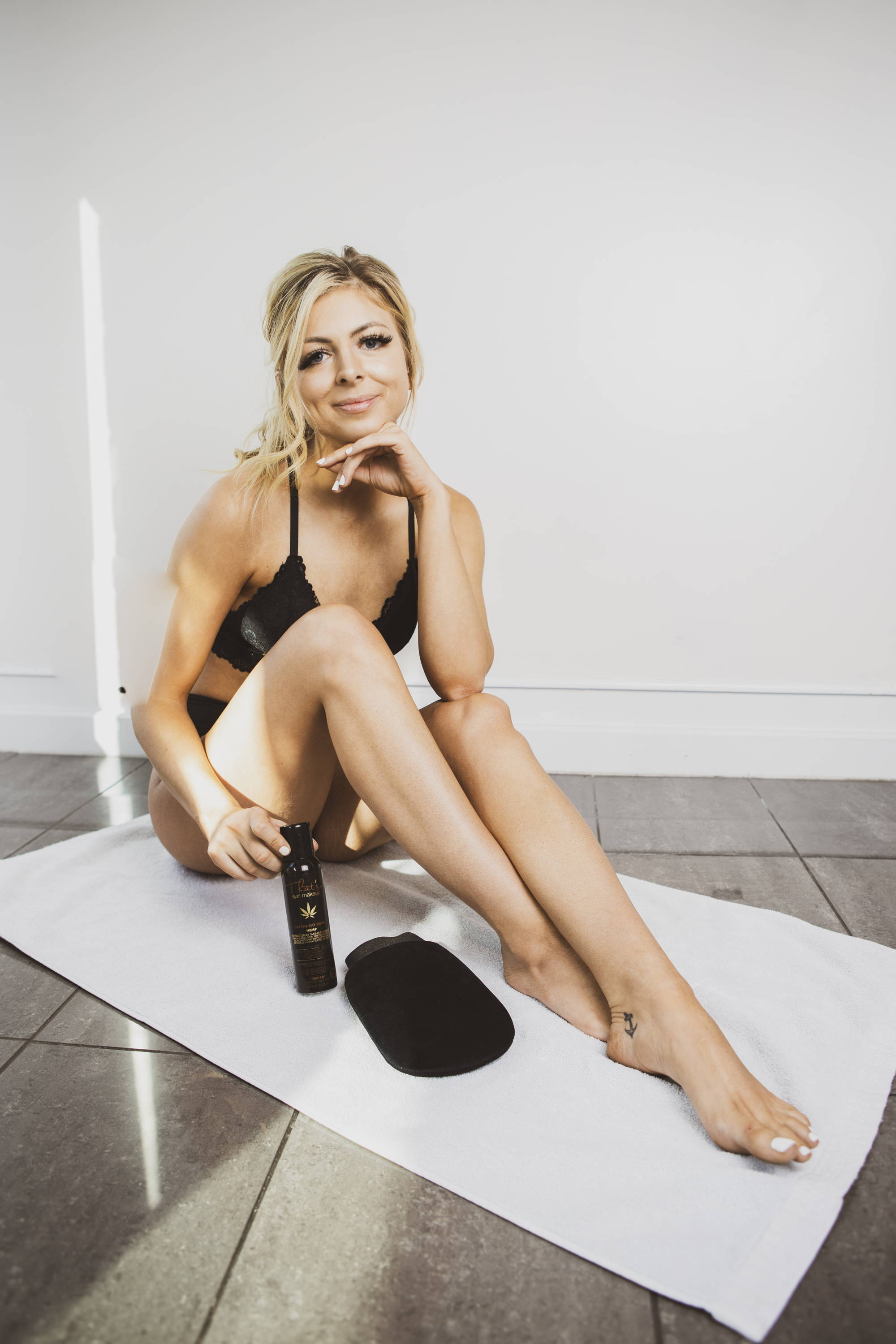 ---
You have dry skin and you would like your self-tanning spray to moisturize your skin at the same time as giving it a pretty golden hue? No problem! We have the perfect That'so product for you!
The On The Go Dark Hemp. Our new product formulated with hemp water offers you deep hydration. Enriched with Omega 3 and Omega 6, it will leave your skin smooth and fully hydrated.
---
Our new dry oil Glowy Gold. We are very proud of our new dry oils because we are sure you will love them as much as we do! Formulated with hemp oil, they penetrate deeply into the skin to moisturize your skin. A little something extra, the golden particles that will make your skin shine in the sun!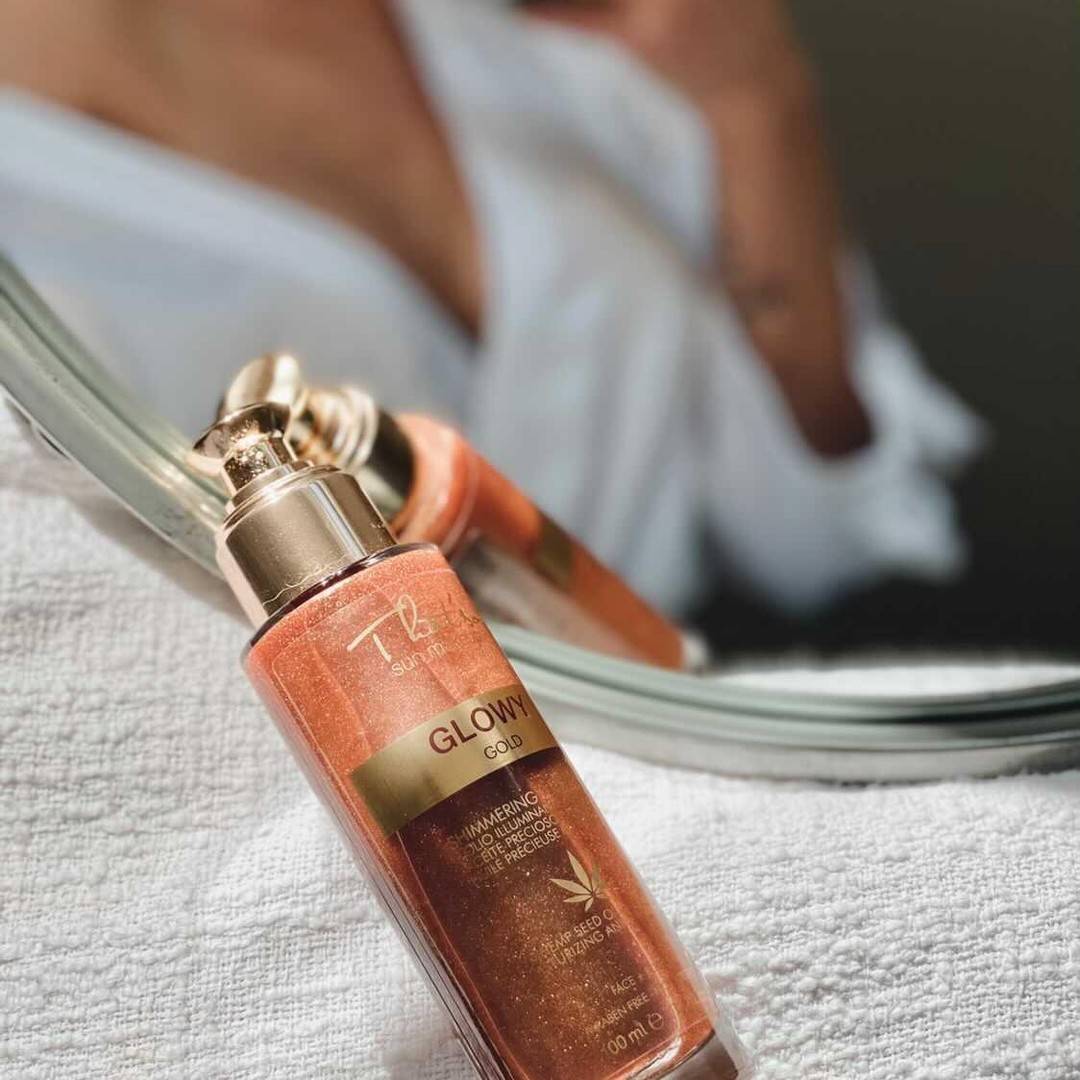 ---
That'so products are always tested under dermatological control, without parabens and without nickel. Our products do not contain products of animal origin and are all vegan but only our Nature Tan range has Veganok certification.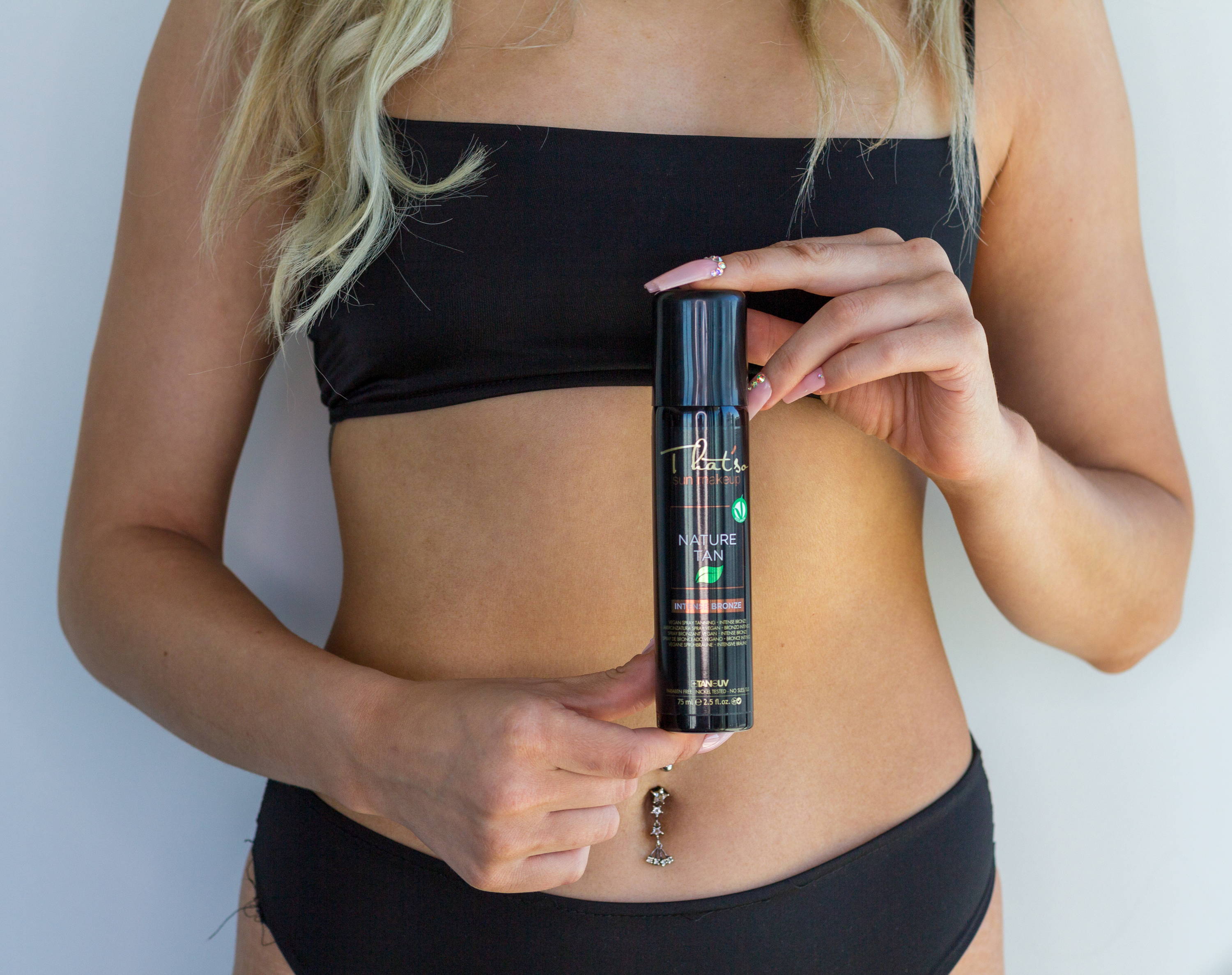 ---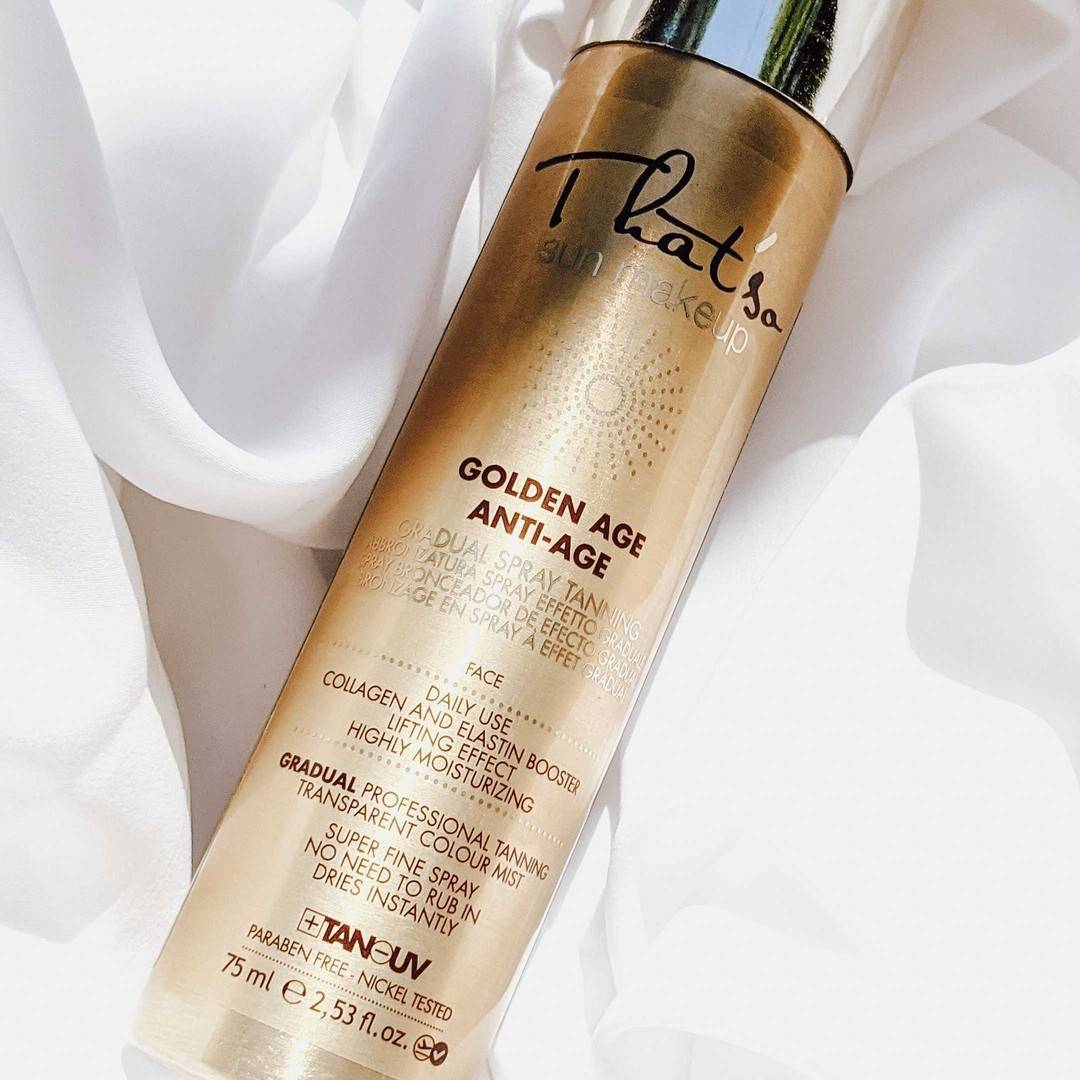 You want an anti-aging effect?
At That'so, we want our products to be part of your beauty routine by offering you more than just a natural and long-lasting tan. Some of our self-tanners are enriched with Panthenol (Vitamin B5) or hyaluronic acid to visibly smooth your skin and give it a lifting effect.
Golden Age. Our Golden Age Self Tanning Spray contains Kombuchka. An ingredient that will smooth your skin, make it more radiant and elastic by protecting the natural production of collagen.
Golden Beauty. Our Golden Beauty spray offers you a truly natural effect that will last for a few days. But above all, it will smooth your skin, deeply moisturize it and restore its softness and elasticity.
---
---
You want a very tanned complexion?
If you are an absolute tanning fan and you like to have a very tanned complexion? We have the right That'so product for you!
On The Go Extra Dark. It is our most highly dosed self-tanner with 10% DHA. It will give your skin a beautiful golden hue as if you were coming back from vacation and lasts up to 5 days! You're going to love it for sure!
---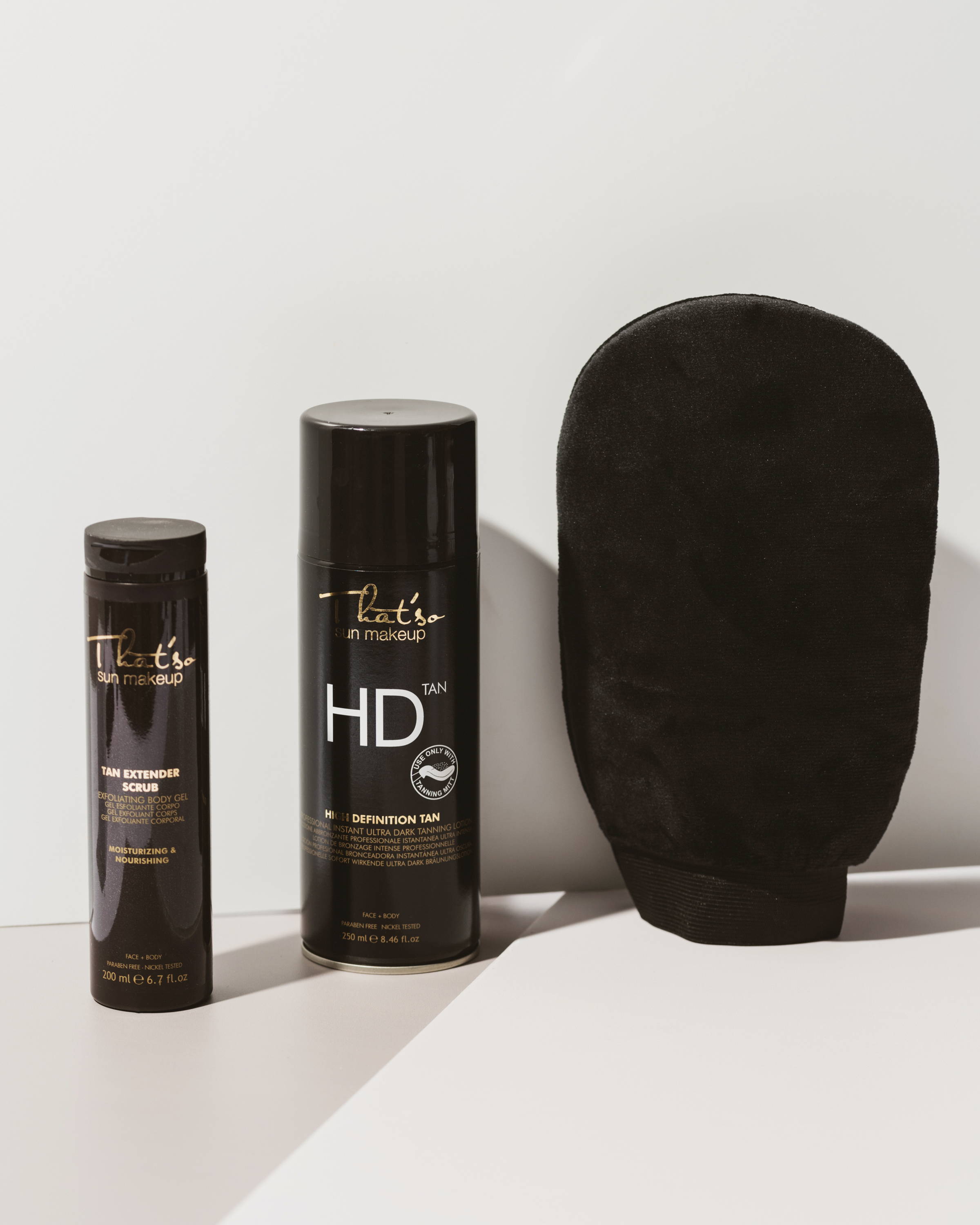 HD Tan. Our new 2 in 1 product is perfect for a professional tan for body and face. You can apply it with a glove on the body and spray it on the face and neckline.
Crédit photo Carolanne Lamontagne Photographie
---
You want a quick application?
You like a tanned complexion and you like it when it's fast? Say no more! We understand you. Our self-tanning sprays are perfect for that!
Whatever your choice is, don't forget to exfoliate your skin before applying your self-tanning product. This will allow the natural tan pigments to penetrate your skin evenly and your tan to last longer. Don't forget that our tanning mitt is great for exfoliating your skin too!
You now know a little more about our self-tanning products. At That'so, we work hard to offer you products that are easy to use and can be adapted to your desires and needs.
THAT'SO DRESS YOUR SKIN - EXPRESS YOURSELF