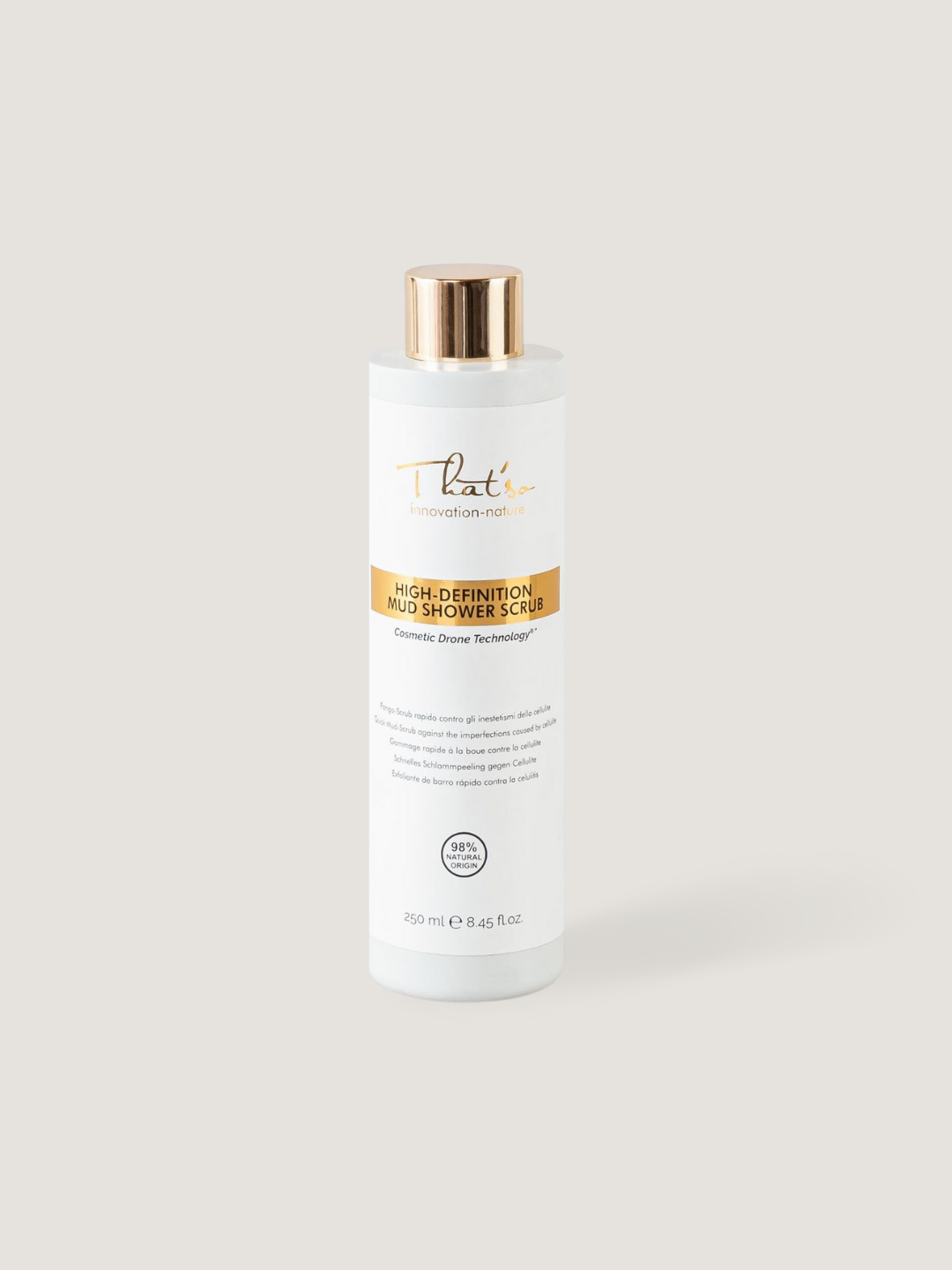 Description
Discover the new High Definition body care That'so, a shower mud to clean and moisturize the skin!
An Exfoliating Shower Mud with clay and thermal water to gently exfoliate the skin and leave it smooth. Formulated with ingredients chosen for their exfoliating properties without aggression, That'so High Definition Mud Shower Scrub contains a mixture of grey and yellow clays to detoxify the skin and promote drainage. The addition of cherry blossom, organic oat and peppermint extracts make the High Definition Mud Shower Scrub a complete body care that helps to deeply moisturize and soothe the skin to leave it clean and fresh. This treatment integrates the Silhouette Drone technology which acts in a targeted way on localized fat for a more toned silhouette!
DERMATOLOGICALLY TESTED - NICKEL FREE - 98% NATURAL ORIGIN

Application
How to use: Apply a layer of product on dry skin in the affected areas. Massage for 1 minute for the exfoliating effect. Leave on for 3 minutes and rinse with warm water. The product in contact with water will form a light detergent foam. Recommended use 2 times a week. Precautions: Do not use during pregnancy and while breastfeeding. External use. Do not swallow. Avoid direct contact with the eyes. Keep out of reach of children.
Ingredients
aqua (water), bentonite, ammonium lauryl sulfate, pumice, olea europaea (olive) fruit oil, dicaprylyl ether, cocamidopropyl betaine, prunus amygdalus
dulcis (sweet almond)* oil, lauryl alcohol, avena sativa (oat) kernel* extract, vitis vinifera fruit* extract, thymus vulgaris leaf* extract, aloe barbadensis leaf juice, juniperus communis fruit extract, mentha piperita (peppermint) leaf extract, prunus cerasus flower extract, glycerin, xanthan gum, tocopherol, coccoloba uvifera fruit extract, acetyl cyclohexapeptide-34, lactic acid/glycolic acid copolymer, polyvinyl alcohol, benzoic acid, citric acid, sodium benzoate, potassium sorbate, parfum (fragrance), phenoxyethanol, ethylhexylglycerin, sodium dehydroacetate, 2-bromo-2-nitropropane-1,3-diol, tetrasodium glutamate diacetate, benzyl alcohol.
*from organic agriculture
all that'so innovation-nature products contain thermal water with a remineralizing and regenerating action.
FAQ
I'm pregnant, is there any risk in using That'so self-tanning products?

Our self-tanners are formulated without any petrochemicals or products that are potentially dangerous to your health. There is no risk in using our products during pregnancy.
When is the best time to apply my self-tanner?
We recommend applying your self-tanner in the evening, after showering. This way your skin is clean and the pigments will have time to develop overnight. After applying your self-tanner, you should not get your skin wet within 4 hours. If you wish to apply make-up after applying your self-tanner, wait until the spray is completely dry.
How do I prepare my skin before applying my self-tanner?
It is recommended to apply your self-tanner on exfoliated and depilated skin. You can use our Tan Extender Scrub. This is the best way to achieve an even application of the product all over the body. Afterwards, it is important to moisturize it. Your self-tanner will adhere better to your skin and last longer over time. You can also use our tinted lotion Gradual Tanning Moisturizer for a longer lasting result.
Do the products make the skin orange?
Erythrulose is a controversial ingredient still used in some self-tanners. It is responsible for the orange tint and can leave spots on the skin. All That'so products are formulated WITHOUT erythrulose! No risk to be orange then!
What is the origin of the DHA in That'so Italy products?
DHA is the product that allows your skin to take on a beautiful golden hue. The DHA in That'so products is 100% natural! More precisely from sugar cane. If you want to know more about it, read our article here.
I have very sensitive skin, can I use That'so self-tanning products?
All our products are dermatologically tested and contain no allergenic products. Our products are designed with formulas that respect your skin and the environment. That'so products do not contain parabens, sulphates (SLES/SLS), silicones, products from the petrochemical industry or other potentially harmful ingredients. You can use them without risk. If you want, you can do a test on a part of your body before applying the entire product.
Shipping
Fast shipping
We offer free shipping everywhere in Canada and to the US for all orders over CA $74,99 (after discounts and before taxes). For orders under CA $74,99, shipping may vary depending on your geographic location. You can choose home delivery or pick up at our warehouse in Montreal.
Order tracking
After your order, you will receive a tracking link to follow the progress of your order by email.
Get in touch
You have not received your order confirmation? The tracking link doesn't work? Or for any other question about your order, contact us by email at info@thatsoitaly.com.
Technologies
Packaging
Nous avons soigneusement pensé à tout. Nos emballages sont conçus avec une technologie brevetée sans gaz qui respecte la planète et améliore la conversation des produits dans le temps. Tous nos emballages sont recyclables et notre ligne de soins Innovation Nature est fabriquée à partir de matériaux recyclés.
Drone cosmétique
Notre ligne de soins innovation-nature est basée sur une technologie innovante et des ingrédients jusqu'à 99% d'origine naturelle. La technologie brevetée Drone Cosmetic offre une action ciblée sur les cellules qui augmente l'efficacité des traitements jusqu'à 30% en délivrant les principes actifs en profondeur.