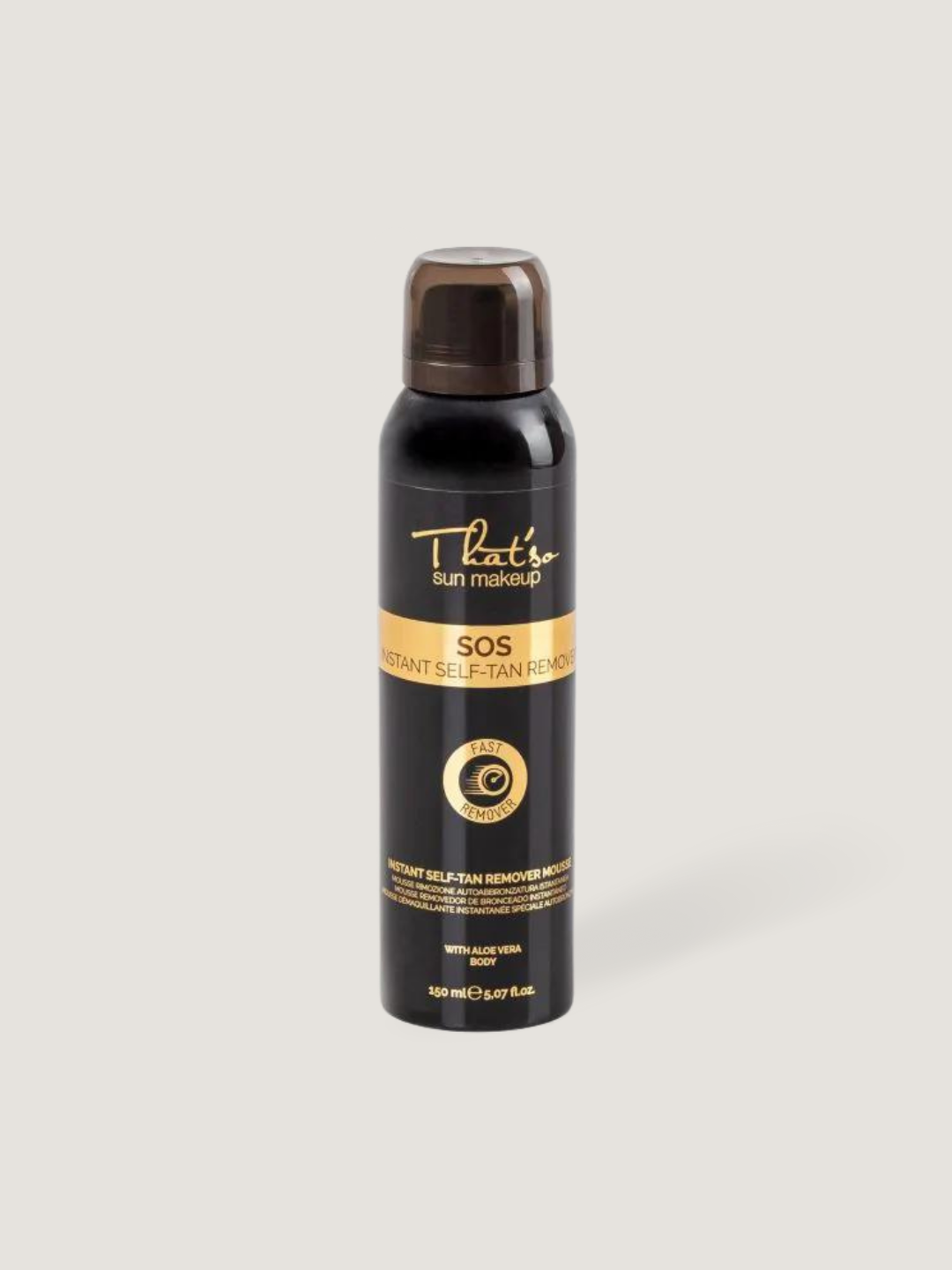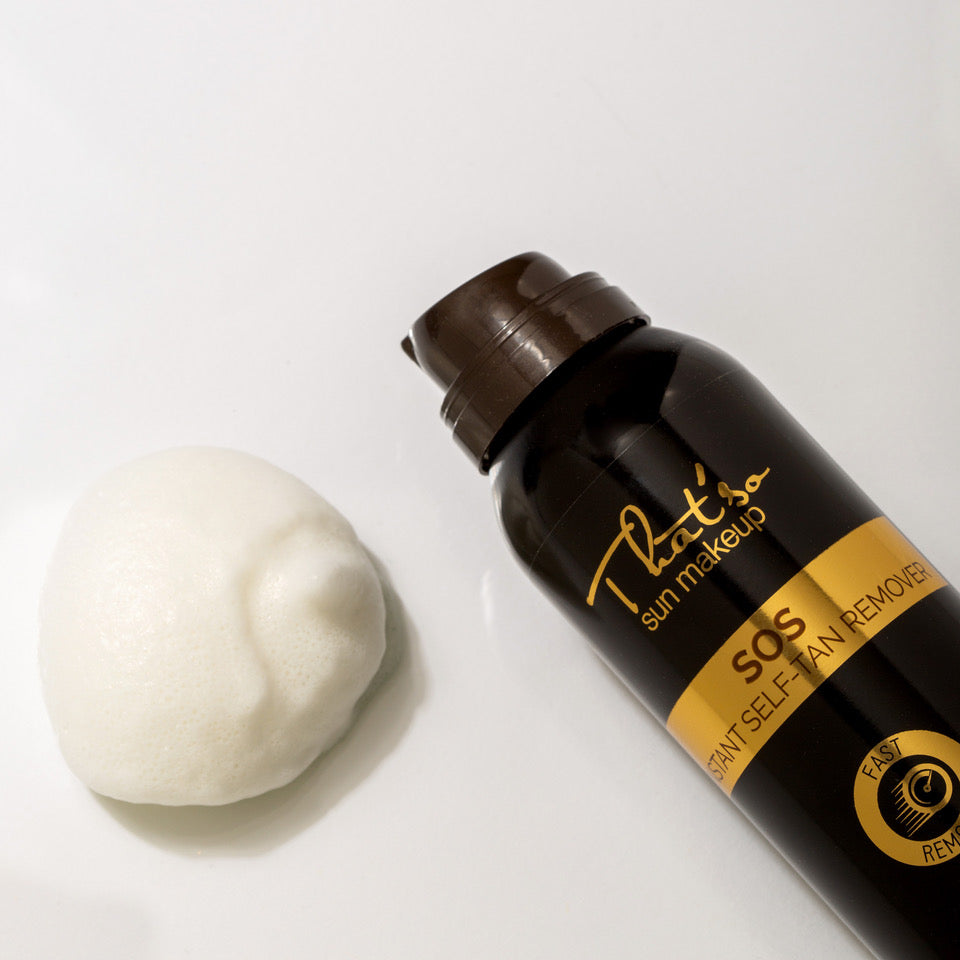 Description
NO MORE TANNING MISTAKES
Our tan removal mousse is designed to instantly eliminate unwanted self-tanning residue. This gentle yet effective exfoliating foam allows you to quickly remove self-tanner without dehydrating or compromising the skin's hydrolipidic balance. Enriched with aloe vera juice and natural chamomile and lemon extracts for a softening effect, it is perfect for revitalizing the skin, leaving it renewed, fresh and clean.
Application
STEP 1 : Shake the bottle thoroughly.
STEP 2: Holding the bottle upside down, dispense the mousse on the hand and massage it into wet skin with circular movements for a few seconds.
STEP 3 : Rinse thoroughly with water.
Features
DHA : 0%
PRODUCT TYPE : MOUSSE
APPLICATION AREA : BODY
PERFUME : VANILLA, COCONUT AND MENTHOL
Ingredients
UREA: Ingredient with a moisturizing action, it favors the removal of self-tanning.
ORGANIC ALOE VERA JUICE (ALOE BARBADENSIS): Known since ancient times for its soothing and moisturizing properties, the extract of the aloe plant is a real relief for the skin, giving it softness and brightness together with an immediate feeling of freshness.
ORGANIC CHAMOMILE EXTRACT: Natural extract with softening and lightening action on the skin.
ORGANIC LEMON EXTRACT: Natural extract with purifying and illuminating action for the skin.

FAQ
I'm pregnant, is there any risk in using That'so self-tanning products?

Our self-tanners are formulated without any petrochemicals or products that are potentially dangerous to your health. There is no risk in using our products during pregnancy.
When is the best time to apply my self-tanner?
We recommend applying your self-tanner in the evening, after showering. This way your skin is clean and the pigments will have time to develop overnight. After applying your self-tanner, you should not get your skin wet within 4 hours. If you wish to apply make-up after applying your self-tanner, wait until the spray is completely dry.
How do I prepare my skin before applying my self-tanner?
It is recommended to apply your self-tanner on exfoliated and depilated skin. You can use our Tan Extender Scrub. This is the best way to achieve an even application of the product all over the body. Afterwards, it is important to moisturize it. Your self-tanner will adhere better to your skin and last longer over time. You can also use our tinted lotion Gradual Tanning Moisturizer for a longer lasting result.
Do the products make the skin orange?
Erythrulose is a controversial ingredient still used in some self-tanners. It is responsible for the orange tint and can leave spots on the skin. All That'so products are formulated WITHOUT erythrulose! No risk to be orange then!
What is the origin of the DHA in That'so Italy products?
DHA is the product that allows your skin to take on a beautiful golden hue. The DHA in That'so products is 100% natural! More precisely from sugar cane. If you want to know more about it, read our article here.
I have very sensitive skin, can I use That'so self-tanning products?
All our products are dermatologically tested and contain no allergenic products. Our products are designed with formulas that respect your skin and the environment. That'so products do not contain parabens, sulphates (SLES/SLS), silicones, products from the petrochemical industry or other potentially harmful ingredients. You can use them without risk. If you want, you can do a test on a part of your body before applying the entire product.
Shipping
Fast shipping
We offer free shipping everywhere in Canada and to the US for all orders over CA $74,99 (after discounts and before taxes). For orders under CA $74,99, shipping may vary depending on your geographic location. You can choose home delivery or pick up at our warehouse in Montreal.
Order tracking
After your order, you will receive a tracking link to follow the progress of your order by email.
Get in touch
You have not received your order confirmation? The tracking link doesn't work? Or for any other question about your order, contact us by email at info@thatsoitaly.com.
Technologies
Packaging
Nous avons soigneusement pensé à tout. Nos emballages sont conçus avec une technologie brevetée sans gaz qui respecte la planète et améliore la conversation des produits dans le temps. Tous nos emballages sont recyclables et notre ligne de soins Innovation Nature est fabriquée à partir de matériaux recyclés.
Drone cosmétique
Notre ligne de soins innovation-nature est basée sur une technologie innovante et des ingrédients jusqu'à 99% d'origine naturelle. La technologie brevetée Drone Cosmetic offre une action ciblée sur les cellules qui augmente l'efficacité des traitements jusqu'à 30% en délivrant les principes actifs en profondeur.